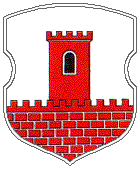 It is located in southwestern part of Belarus, in Brest Region, 40 km north of Brest. Population: about 9 thousand people (2002).
Historic background
It was first mentioned in the old Russian chronicles in the late 13th century, when a castle with the famous tower of Kamenets was being built to protect the northern boundary of Volyn's principality from the devastating raids of invaders.
The old Russian chronicles relate some details regarding this construction. An advantageous location for the castle on the stony steep bank of the Lesnaya (Lysna) River was found by Oleksa (Aleksa), a prominent builder and architect, who had built earlier some castles, including that in Brest (Berestye). Prince of Volyn Vladimir Vasilkovich appreciated the choice and in 1376 commissioned Oleksa to build a formidable castle at this place.
The name of the place derives from the Slavonic word "kameny" meaning "stony". The old name "Kamenets-Litovsk" has the word "Litovsk" that means "Lithuanian" as it belonged to the Grand Duchy of Lithuania for several centuries.
Like many European castles, it had a great round tower, on the raised mound (motte), surrounded by a moat on 3 sides and the river, an adjoining enclosure (bailey). This type of the motte-and-bailey castle appeared in the 10th and 11th centuries between the Rhine and Loire rivers and eventually spread to most of western Europe and even to the area of the present Belarus.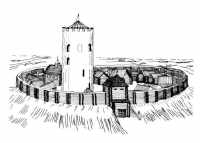 This red-brick tower was actually a donjon or a keep. It is 30 m high, the walls are about 2.5 m thick, with a a pitched roof at the top. Out of 5 levels the upper ones were residential rooms for nobility, the lower ones were for service and guard.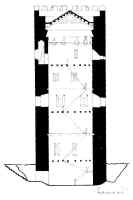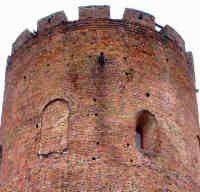 The upper part of the tower was furnished with battlements and several nice courses of brickwork, the niches resembling window openings were plastered and whitewashed.
The pointed lancet windows on the upper 5th level are bigger and let in more daylight. The openings were earlier plastered and whitewashed.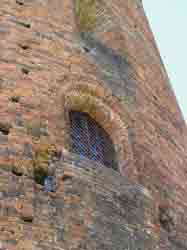 In the middle was a balcony. Now we can see a window on this spot.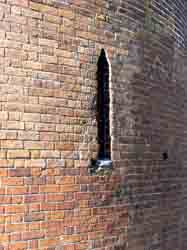 The windows on lower levels are narrow, look like loopholes.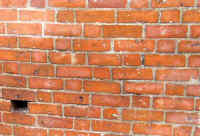 The holes in the walls were left after scaffolding was removed after construction.
In a hole in the old wall a pigeon made a nest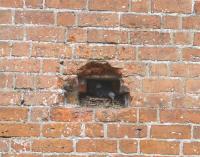 The brickwork features a peculiar Baltic bond: a course consists of 2 stretchers and 1 header.
Similar towers like that in Kamenets, i.e. keeps, were built in Brest (Berestye), Grodno, Turov, Novogrudok, but they were destroyed in the course of wars. The tower of Kamenets is the only one that survived in Belarus until the present.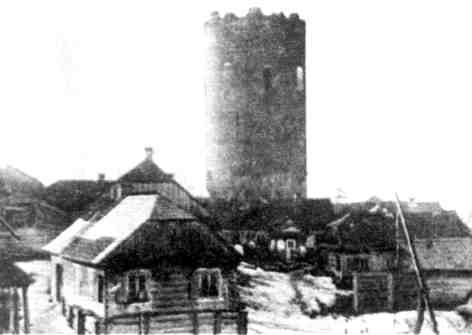 The tower of Kamenets in 1899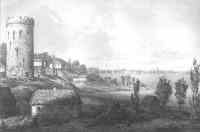 The tower of Kamenets-Litovsk,
water-colors by Napoleon Orda, 1876
Kamenets Today
the Tower of Kamenets is the main landmark, dominating over the nowadays Kamenets.
The Tower was built in the late 1270s. You see the authentic bricks of this very old defense structure. The wall saw a lot of assaults. The tower remained unconquered till the 17th century.

The view from the river bank

The monument to the founder of the town. When a student, Alexandr Lyshchyk designed this monument as a diploma work. It was unveiled in 1985

There is Russian St. Simon's church near the tower. The church was several times rebuilt after fires. Today we see it like it was constructed before WW1.

the view in 1931

The house of the school was constructed in the early 1930s.

The war memorial commemorates Soviet soldiers and offices who perished in July 1944 during the liberation of Kamenets from Nazi troops.

rebuilt Catholic church (2006)

Here by the war memorial Brest Street starts leading to Brest. Earlier it was the famous Market place of Kamenets

The Market place in 1932( left) and in 2008 (right). Today it is Lenin Street. In both pictures you will find the same landmark in the background, this is a tiny whitewashed 2 storied building. Till 1939 it was the Rabbi's house, today it is a dwelling house with 2 windows

The old house with columns housed a private drug store in the Market place in the 1930s. Today it is a shop

The house still bears the original outline of the synagogue "Der Meier". Today it is a dwelling house

This landmark is dedicated to the foundation of the town. Today another landmark is on the site. It was erected recently.

A bagpiper with the famous tower in the background welcomes the guests of the international festival of knights in June 2009.

More about the festival
Opening of the Holocaust memorial in Kamenets on July 26, 2009
You can get much more information and pictures of Kamenets, Belarus at www.kamenets.by
map of Kamenets at govorim.by